News from Beyond Youth Custody May 2018: The Final Edition
22 May 2018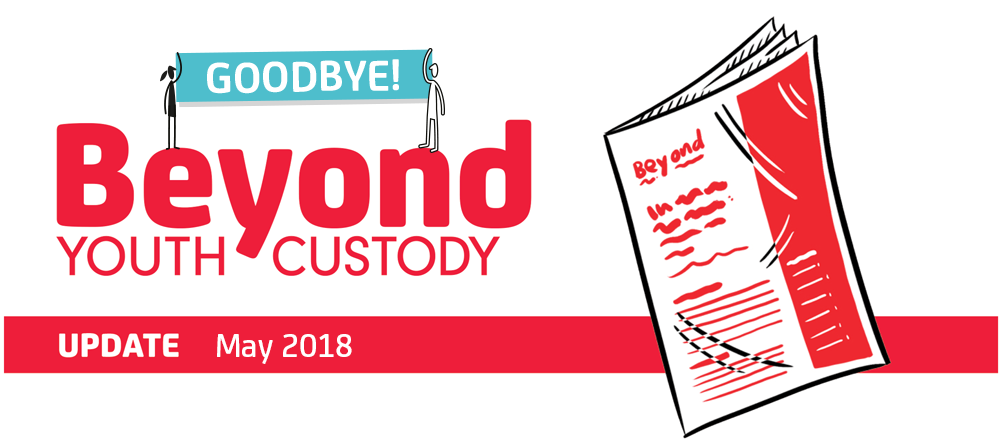 We're now at the end of the six-year Beyond Youth Custody (BYC) partnership and we'd like to say thank you to all those reading this for your support of BYC. We've have had a busy end to the programme, working hard to ensure BYC's legacy continues and research is embedded into resettlement policy and practice.
Recent news
On Monday 16 April 2018, BYC hosted a parliamentary conference to celebrate the successes of the programme and consider how BYC's research on effective resettlement can be used to inform future policy and practice. More than 100 people were in attendance including senior politicians, charity leaders and young people. Keynote speakers included Dr Phillip Lee MP, Charlie Taylor, Professor Neal Hazel and BYC Ambassador Noël Williams. Resources from the event can be viewed here, along with a blog from Noel here .
BYC's legacy video has been launched as a resource for practitioners, policymakers, researchers and service providers. The video outlines BYC's key learnings, focusing on 'Now all I care about is my future: supporting the shift' and explores considerations for practice.
A compendium of papers on 'Child friendly youth justice?' has been published by the National Association for Youth Justice, including a paper on 'Child friendly resettlement' by Pippa Goodfellow, former BYC Programme Manager.
In order to embed our research into practice, we have engaged in various speaking opportunities over the last few months, including numerous Youth Justice Board Effective Practice meetings, a conference in London with University of Bedfordshire and King's College London Making Research Count, and a young people's participation event in Liverpool with Clinks, Everton in the Community and Peer Power.
In the final months of the programme, we were pleased to work with Unitas and Unlocked Grads  to ensure BYC's research is fed into training and education materials for future youth justice workers.
Programme close
BYC's Twitter account will close on 31 May 2018; please follow @Nacro for updates. BYC's website will stay live for a year until May 2019 after which all resources, research reports and practitioner's guides will be available on Nacro's website.
As BYC is closing, and in line with the new General Data Protection Regulations, your contact details will be removed from the newsletter database.
Acknowledgements and thank yous
To communicate the experiences and policy recommendations of young people and staff working in resettlement, BYC's work has relied heavily on the help, support and expertise of individuals and organisations across a range of services. We would like to say thank you to the Young Experts who have been involved, the Big Lottery, Youth in Focus projects and all those who have supported our work. Your contributions and enthusiasm for BYC has been invaluable.
Although the programme is closing, we hope that you will continue to put BYC's research into practice, champion young people's voices and continue the legacy of the programme.
Kind regards,
Sarah Wilkinson
BYC Programme Manager