Working together to make Beyond Youth Custody's research count
28 March 2018 | Tagged with the theme: Engaging young people
Working together to make Beyond Youth Custody's research count
On Thursday 22 March 2018, BYC co-hosted a conference in London on the improvement of policy and practice in the effective resettlement of young people, in partnership with Making Research Count at the University of Bedfordshire and King's College London. The day combined talks and discussions on several topics from BYC researchers and youth justice professionals about effective resettlement, in particular the resettlement of vulnerable groups including girls and young women, black and minority ethnic young people , gang involved young people and looked after young people.
The conference provided an opportunity for stakeholders from a diverse range of backgrounds (including youth justice, social work, social care and from both voluntary and statutory sectors) to network, share good practice, learn from each other and from the work carried out over six-years of the BYC programme and the resources that have been developed from that work.
Below is a sample of the agenda: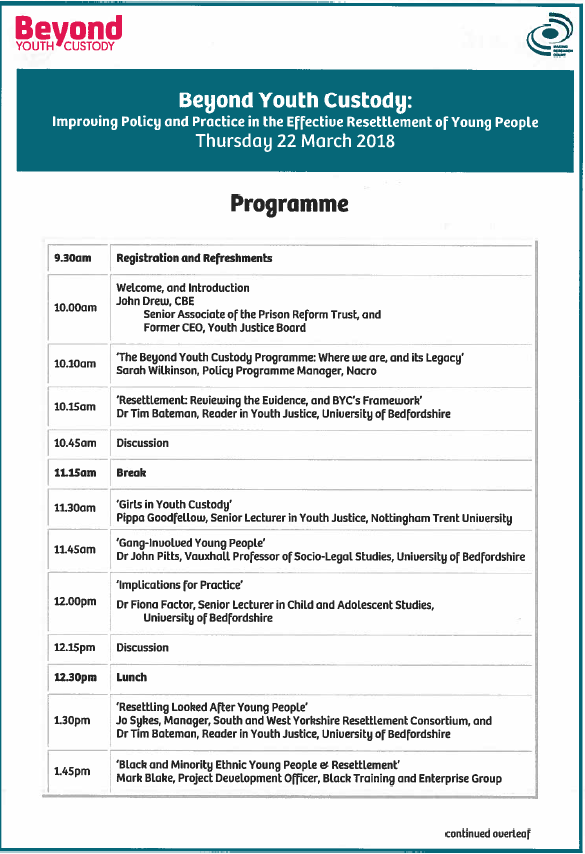 Additionally, all of the presentations used during the day are available to download below.
Sarah Wilkinson, Policy Programme Manager BYC, said:
"It was fantastic to bring the many strands of BYC's research together at one event and to hear from the diverse range of practitioners in the room. Key themes throughout the presentations – also reflected in the Q&A and discussions – were the importance of co-creation and listening to young people, trusting relationships, effective multi-agency, and joined-up working, including breaking down barriers between custody and community.
"There was appetite and enthusiasm from attendees to embed BYC's research principles into practice. This work to translate the research into concrete changes in practice will help ensure that BYC's legacy will continue long after the close of the programme."
Thank you to all those who contributed to the day's discussions. If you would like hard copies of any of the BYC practitioner's guides discussed, please email beyondyouthcustody@nacro.org.uk
Sarah Wilkinson- 'The Beyond Youth Custody Programme: Where we are, and its Legacy'
Dr Tim Bateman – 'Resettlement: Reviewing the Evidence, and BYC's Framework'
Dr Tim Bateman – 'Resettling Looked After Young People
Dr Fiona Factor – 'Implications for Practice'
Dr John Pitts – 'Gang-Involved Young People'
Jo Sykes – 'Resettling Looked After Young People' 
Mark Blake – 'Black and Minority Ethnic Young People & Resettlement' 
Dr Paul Olaitan- 'Working Together in Resettlement'