News from Beyond Youth Custody – April 2016
11 April 2016
Since our last update in December, we've published several resources and briefings that will be interesting to anyone who is working, researching or making decisions in the area of youth justice, with an interest in resettlement. This update can be read simply as a signpost to our research and resources, but also as an invitation to get involved and let us know what you think. Please see the 'Can you help us?' section to get an idea of our future plans and how you can be a part of them.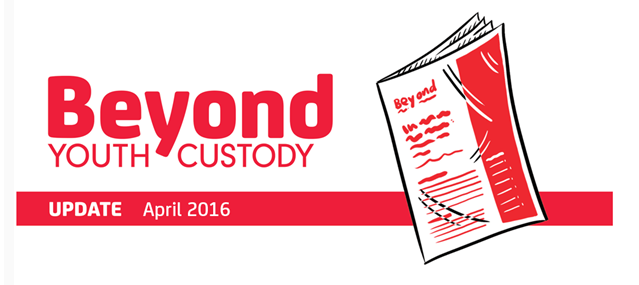 Recent work
The most recent in our series of updates that outline the latest lessons from research, policy and practice in the resettlement of young people, downloadable here, focuses on interim findings from the current Taylor Review of youth justice.
Two recently released briefings focus on measuring effectiveness specifically for stakeholders involved in the resettlement of young people. 'Proving 'effectiveness' in resettlement', explores the different ways 'effectiveness' can be measured. 'Resettlement work with young people: using individual case studies to assess costs and benefits' explores how case studies can be used to demonstrate the costs and benefits of resettlement work with young custody-leavers.
In order to capture the voices of young people and feed their views into Charlie Taylor's Review of Youth Justice, Nacro, in partnership with Peer Power and Clinks, held two consultation events at the beginning of March. In total, 44 young people were involved at the events, which were also attended by Charlie Taylor and his review team. A summary can be found here. The young people's voices will also form an important part of each organisation's individual submissions. Thanks to all those who took part!
We recently presented and took part in a Resettlement Training day at Cookham Wood YOI, where staff from the establishment who are involved in any aspect of resettlement, as well as all of the local YOTs, were brought together to share information and improve practices.
Upcoming work
Look out for two upcoming practitioner's guides – 'Role of families in resettlement' and 'Custody to community: supporting young people to cope with release' which offer practical steps and examples of positive resettlement practice.
We'll be finalising our resettlement framework and will continue to feed into Charlie Taylor's review of Youth Justice. We'll also be undertaking a piece of research to explore the role of multi-agency partnerships and how these can support effective resettlement.
Our programme of consultation with young people continues and we are keen to explore the idea of the 'ideal worker' with young people to find out what qualities and characteristics they feel are important for YOT and secure setting staff to have.
Can you help us?
Do you know of any young people who are keen to have their voices heard? Please contact Sarah Wilkinson who will let you know more about BYC's planned participation and engagement work and upcoming opportunities.
Would you like someone from the BYC team to speak at meetings and events in order to use research to improve practice, delivery of services and outcomes for young people leaving custody? Please contact Pippa Goodfellow to find out what we can do for you.
We are looking for examples of good practice to include within our 'Supporting young people to cope with release' practitioner's guide. A key point contained within the guide is that due to the issues of stress/disorientation experienced by young people on release, temporary release should be able to be used as a tool to minimise the effects, as a reorientation tool rather than necessarily facilitating a specific resettlement pathway. Do you have an example of where:
Temporary release has been used as a means of reorienting a young person back into the community, to alleviate their anxiety and stress when they are released at the end of the custodial part of their sentence?
A young person has been temporarily released in order to get them used to being on the outside (eg. to travel on the bus, walk down the street etc), rather than for the purposes of a specific pathway (job interview, college visit etc). If you or your organisation has any examples of this type, please contact Viv Francis.