Putting our heads together – findings from practitioner workshop on effective resettlement
16 February 2017
Last week, the Beyond Youth Custody team brought together colleagues from Youth in Focus resettlement projects for an effective practice sharing workshop.
The Big Lottery Fund's Youth in Focus initiative funds BYC, and also funded 15 service delivery projects across the country to work with young people leaving custody. Over the last five years, the BYC team has worked alongside these projects in a range of different ways, including collaborating on young people's participation work, supporting them to evaluate and monitor their services, and feeding back research findings in order to influence resettlement practice.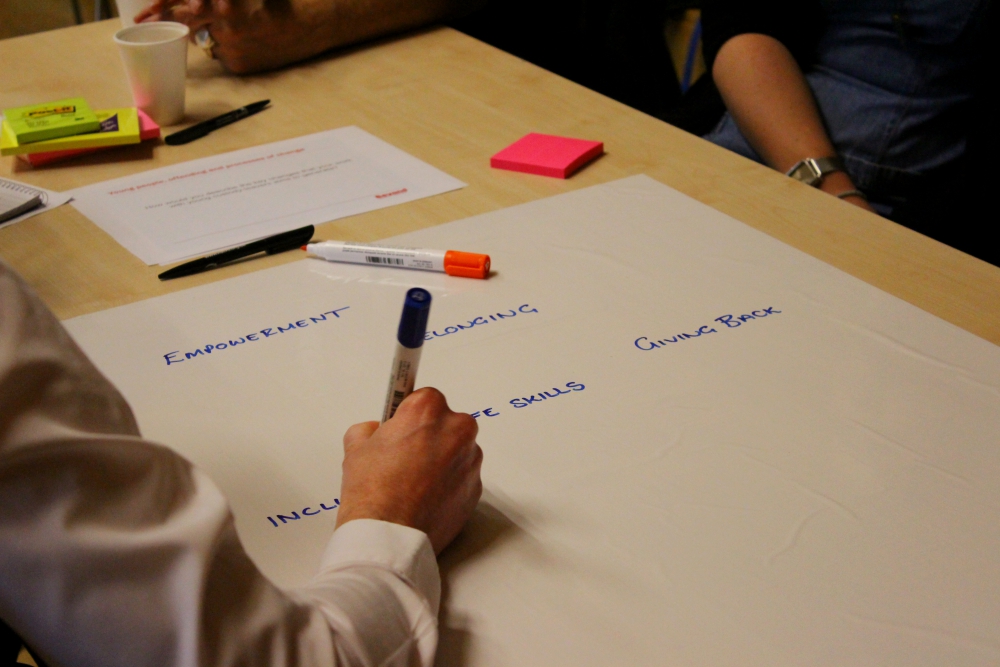 The aim of the workshop was to bring different projects together to share their experiences of working with young people leaving custody, identify common themes and share examples of positive practice and solutions to overcoming barriers.
The workshop considered questions relating to desistance, how to engage young people, how to ensure support is continuous and individually tailored, and how to go about effectively measuring outcomes.
While the projects come from different geographical locations, work with different groups of young people and adopt different methods of delivery, the level of commonality in their experiences was striking. Some of the recurring learning points from the day were:
Importance of listening to young people and giving them time. Project staff talked about the importance of involving young people at all levels.

"Get young people to tell us what they want, what's important to them. Let them mould the programme and be young person-led. You've got to be flexible for it to work."
Flexibility in funding. All agreed that funding that allowed projects to commission practical things – such as travel cards or money for clothes to wear for an interview – were considered crucial when working with young custody leavers.

"This distinguishes us from other projects that are restricted to giving advice and guidance."
"It allows us to give young people the opportunity to do things they've never done before."

Skills of workforce. Everyone talked about the very unique skillset, which included empathy, never giving up, resilience and understanding, required to do the job

"You can't learn what we do. It's something in our core. The right staff can just build relationships with clients. It's hard to describe."
The discussions and feedback from the workshop will be incorporated into a report that BYC will be launching at the end of March. If you are interested in receiving a copy of the report please email us.
A big thank you to our colleagues who attended the workshop!