News from Beyond Youth Custody – August 2016
24 August 2016
We're now in the final year of the five-year Beyond Youth Custody (BYC) programme. Over four years of research, our team has consulted with hundreds of young people, practitioners, policy makers and commissioners; we'd like to thank all those reading this that have been a part of it. Our focus for the final year is to continue working towards our aim to challenge, advance and promote better thinking in policy and practice for the effective resettlement of young people, and to ensure our learning secures a lasting impact beyond the life cycle of the programme. An event in Parliament will celebrate and mark the end of the programme in March 2017.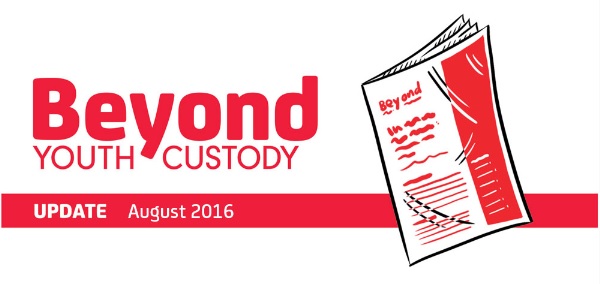 Recent work
Upcoming work
Look out for our upcoming briefing which explores collaborative working between the agencies involved in resettlement. The briefing considers how such effective partnerships can be achieved and how partnership working can be sustained in an evolving policy environment within a climate of continued austerity.
Also coming soon will be the most recent in our series of updates that outline the latest lessons from research, policy and practice literature about the resettlement of young people.
We continue to develop BYC's 'resettlement framework' which will draw together the entirety of BYC's learning. In the development of the framework we are seeking to consult widely with our stakeholders – please get in touch if you wish to feed into this process.
Working closely with our colleagues from Youth in Focus resettlement projects, we will be bringing together learning from their experiences of service delivery and highlighting good practice.
Can you help us?
Would you like someone from the BYC team to speak at meetings or events in order to use research to improve practice, delivery of services and outcomes for young people leaving custody? Please contact Pippa Goodfellow to find out what we can do for you.
We're keen to keep young people's voices at the heart of what we do and ensure their experiences are heard. Please let us know if you're aware of any young people who would like to get involved – we're very happy to come and visit projects to discuss this, to work flexibly, and be led by you and young people regarding how they might like to be involved. Possible opportunities include creating artwork to showcase at BYC's end of programme celebration event, producing a young people's advice book for decision makers as well as other communications opportunities. Please contact Sarah Wilkinson for more info.