The Journey of the Child – headlines from the Youth Justice Convention 2015
7 December 2015
Between 25-26 November, more than 600 practitioners, policy makers, academics and figures in youth justice – including representatives from Beyond Youth Custody (BYC) – gathered in Leicester for the annual Youth Justice Convention. This year's theme was 'The Journey of the Child', with a comprehensive agenda that focused on topics including early intervention, the overrepresentation of looked after and black and minority ethnic (BAME) children within the criminal justice system, violence within the secure estate and young people's experiences of resettlement.
Many young people with experience of the criminal justice system were involved in the convention, reminding delegates of what it is possible to achieve through the way they have turned their lives around. The event was an opportunity to celebrate the many successes of the youth justice system over the past 15 years; recognising the opportunity that the record low levels of young people in custody has given for a different, more tailored pattern of provision in the future.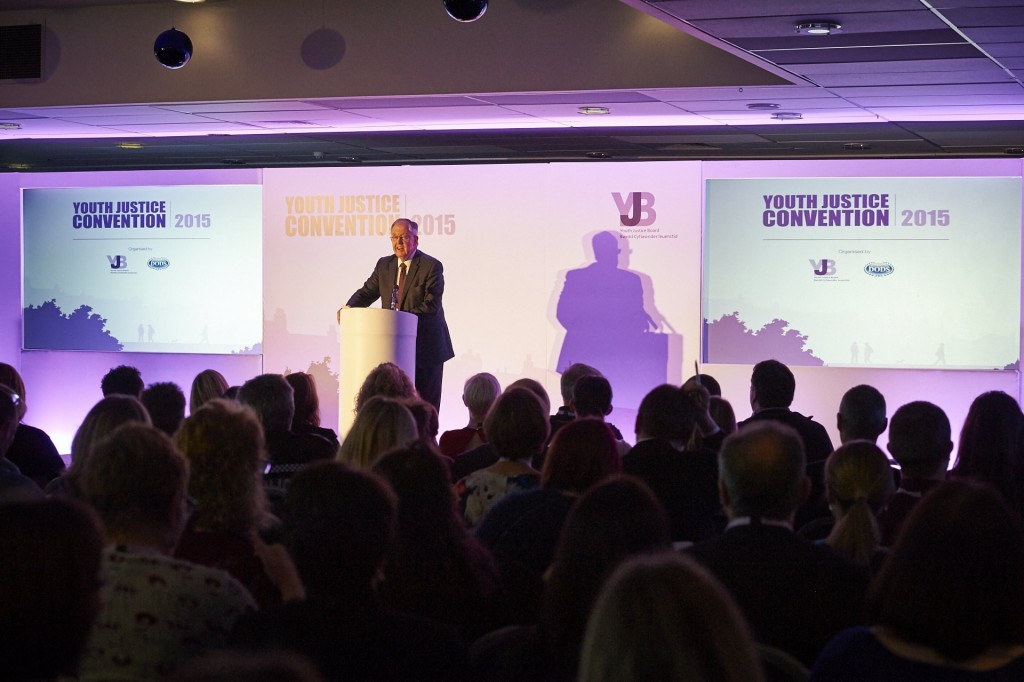 Lord McNally, Chair of Youth Justice Board. Image by Lewis Kirton-Smith
However, speeches and workshops were also framed within current challenges: an increasingly vulnerable cohort of young people with more complex needs in custody, more violence in the secure estate and continued cuts and pressure on resources. In the context of current unknowns about the future of youth justice, there were indications that the focus will be on work to divert young people out of the criminal justice system and a drive to focus custody on education and rehabilitation.
Speakers included Lord McNally, Chair of YJB; Baroness Young; Charlie Taylor, recently appointed by Justice Secretary, Michael Gove, to lead a review of the youth justice system; Juliet Lyon, Director of Prison Reform Trust; and Chris Wright, CEO of Catch 22.
Headlines
Charlie Taylor updated delegates that, following an initial consultation with officials, YOTs, secure establishments, charities, the police and many others, he will be releasing a report containing early thoughts at the beginning of 2016, and welcomed views from the sector following this. Key issues for him were diversion and reducing the overrepresentation of BAME and looked after children in CJS, increasing Governors' autonomy, and exploring the role for devolution.
Lin Hinnigan spoke of the opportunity she saw for the future. She said, "It's now possible to consider how educational and behavioural needs for this smaller cohort can be met within a more integrated youth justice system – with custodial elements provided more locally."
Lord McNally spoke of the "triple alliance" required between the YJB, the Department for Education and the Department of Health, and outlined his desire to secure some of the £1.5bn the government has set aside for mental health, for young offenders and those on the cusp of offending.
A word from BYC
It was great to see so many familiar faces at our exhibition stand and to make new contacts. We were delighted to receive positive feedback from delegates about BYC's resources, how they have been used in training and led to changes in approach to working with young people.
We also ran a Twitter campaign, asking delegates what the essential factors for effective resettlement are. Check out what Jo and Sarah, South and West Yorkshire Resettlement Consortia Managers, think in the picture below.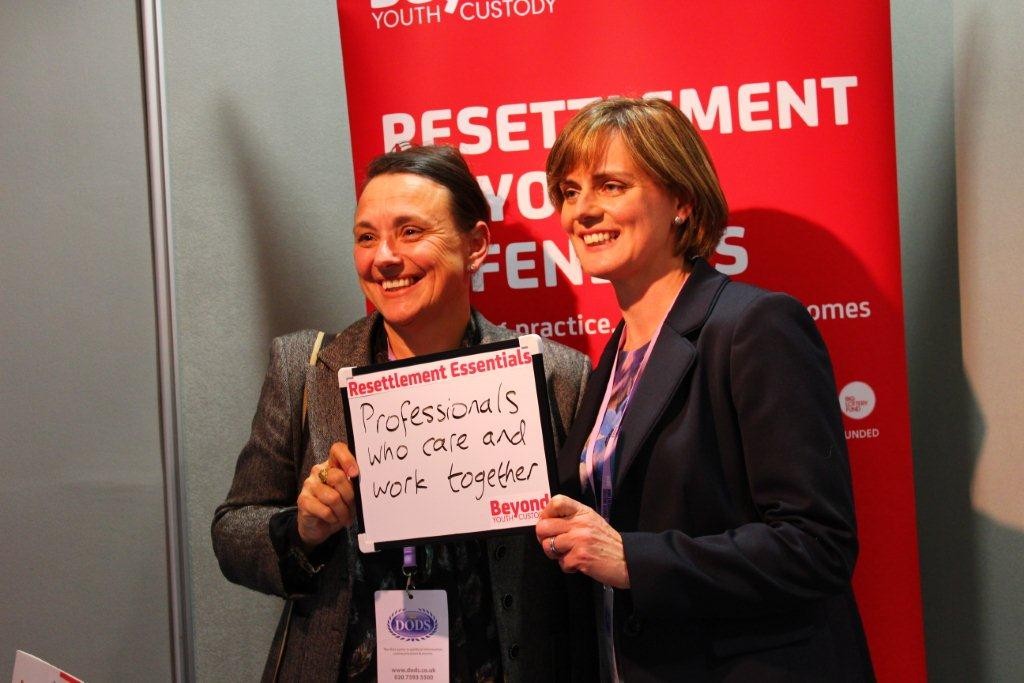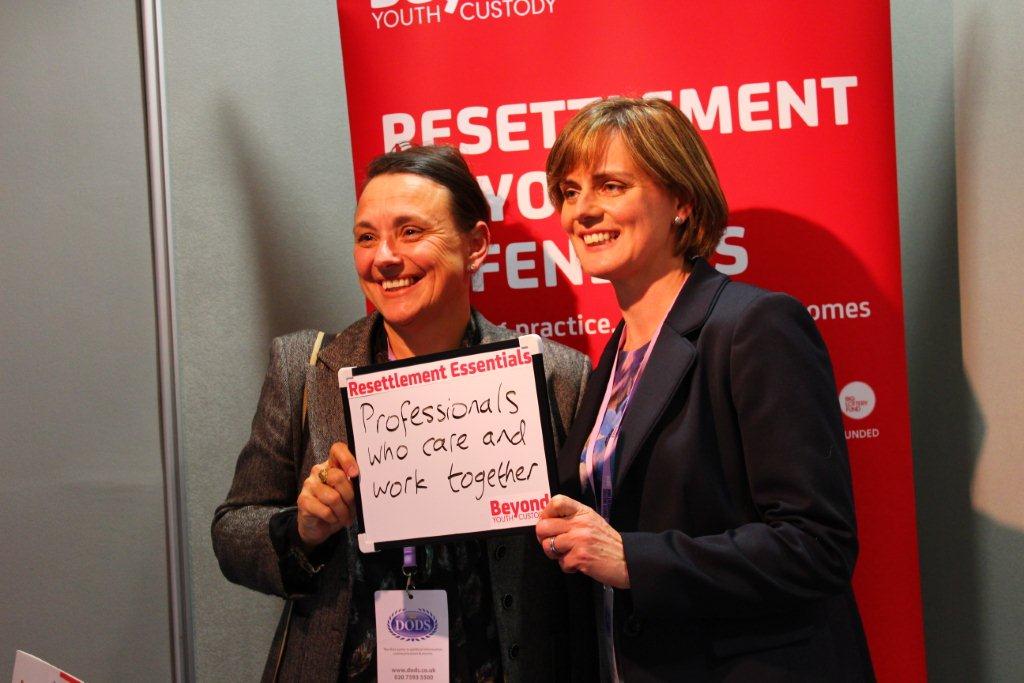 BYC's Programme Manager, Pippa Goodfellow, co-delivered a workshop on 'Achieving effective resettlement' with Brian Redding, Project Manager for the East Midlands Resettlement Consortia (EMRC) and David Banks, member of the Youth Justice Board. The workshop explored the link between research and practice using practical examples of how the EMRC have taken up learnings from BYC and incorporated them into their delivery of services.