News from Beyond Youth Custody – August 2017
1 August 2017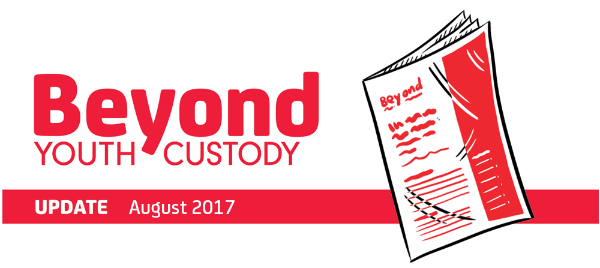 We're now in the final year of the five-year Beyond Youth Custody (BYC) programme, working to ensure our learning secures a lasting impact beyond the life cycle of the programme. We have had a busy start to the year and we are planning many more opportunities to engage with those working in policy and practice in the coming months.
Recent work
We have recently taken up several speaking opportunities including presenting to the Standing Committee for Youth Justice, co-delivering a workshop at the Tackling Multiple Disadvantage National Summit, and presenting at the Public Policy Exchange seminar 'The Future of Youth Custody: Prevention, Innovation and Collaboration' and Westminster Briefing conference 'Future of Youth Offending and the Impact of the Taylor Review'.
In June we joined From Care to Independence colleagues to present to the Fire Service Prince's Trust Association.
Last November, the Youth Justice Board (YJB) launched its participation strategy during the Youth Justice Convention. The participation strategy is the YJB's commitment to putting the voices of children and young people at the heart of its work. The BYC programme has focused research into this area and published a practitioner's guide on developing participatory approaches in resettlement services, considering the implications for work with young people leaving custody.
In May the YJB, together with BYC, wrote to all youth offending teams (YOTs) to call for examples of effective practice around participation. The YJB intends to feature the best examples on the Youth Justice Resource Hub. We are also hoping that YOTs will nominate a colleague to be a champion for young people. To send the YJB an example of practice in this area, or for advice and information, please email effectivepractice@yjb.gsi.gov.uk. For more information about BYC's work in this area please email: beyondyouthcustody@nacro.org.uk
We recently sent copies of each of our resources for practitioners to all YOTs and secure establishments in England and Wales. If you would like any free copies to be sent to you, please get in touch with us.
Upcoming work
On Monday 25 September, BYC's Pippa Goodfellow will be presenting at the one-day 'Child Friendly Youth Justice?' conference organised by the National Association for Youth Justice, the Standing Committee for Youth Justice and the Centre for Community Gender and Social Justice at the Institute of Criminology, University of Cambridge. The conference will bring together academics, practitioners and policy makers to discuss the latest research, practice and policy thinking concerning child friendly youth justice. For further information and tickets see the Eventbrite page.
Save the date and look out for further details of the Making Research Count event with the University of Bedfordshire on Monday 20 November in Central London. We are also holding a seminar for students and practitioners with the University of Salford at White City in the autumn – date to follow shortly.
Nacro will be convening roundtable events – focusing on how to most effectively improve outcomes for young people leaving custody – at the Conservative and Labour party conferences.
A priority in the coming months will be to continue to work closely with partners and to disseminate our learning. If you would like to get involved in BYC's work, want us to present at an upcoming event or know of any young people who would be interested in contributing to the programme, please email: beyondyouthcustody@nacro.org.uk
Other News
From Care to Independence – Alongside BYC, the Big Lottery Fund's Youth in Focus initiative funded 'From Care to Independence', a five-year research project delivered by The Prince's Trust. As part of From Care to Independence, the National Children's Bureau has been conducting research to inform how care leavers are supported on Prince's Trust programmes, as well as being a resource for other practitioners working with care leavers. To find out more about the programme and to read their report, please see here.
Writing competition for under 21 prisoners, their families or former prisoners – The Prison Reform Trust is running a writing competition with a £100 prize for the winning entry for people of 21 years or under. The deadline for entries is Monday 7 August – for details see the flyer here.
Thank you for your support of BYC. Please do pass this update on to colleagues who may be interested in our work.
Kind regards,
Pippa Goodfellow
BYC Programme Manager