Effective approaches with young adults: practitioner's event
2 October 2015
When: Wednesday 11 November 2015, London (half day), free
The Beyond Youth Custody programme will co-host an event focused on the recently published 'Effective approaches with young adults: a guide for probation services', which aims to give probation practitioners, whether in the National Probation Service or Community Rehabilitation Companies, the tools to deliver a more effective approach to young adults. Delegates will each receive a copy of the new guide which is funded by Barrow Cadbury Trust as part of the work of its Transition to Adulthood (T2A) programme.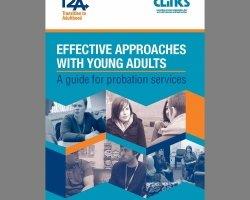 The publication provides practical suggestions for effective ways to engage young adults and support their desistance from crime. It also includes suggestions for managers on what they can do to enable practitioners to improve outcomes within probation services.
The event will share learning from recent BYC research into effective resettlement of young people leaving custody. BYC has published a series of practitioner's guides that focus on key areas of resettlement practice. Feedback from these publications and implications for practice will be explored on the day.
Delegates will also hear from the London Community Rehabilitation Company (CRC) about their priorities for engaging and working effectively with young adults.
Venue: Lift, 45 White Lion St, N1 9PW web site for map and travel info: http://www.liftislington.org.uk/find-us
Who should attend: Practitioners in probation (NPS/CRC); Youth Offending Services; prisons; IOM; voluntary sector; health and social care; ETE; housing; commissioners.
To book your place please email events@clinks.org