Beyond Youth Custody's latest resettlement report draws the parliamentary crowds
14 July 2015
On Wednesday 1st July, Beyond Youth Custody held a parliamentary event kindly hosted by Nacro's President, Lord Dholakia to launch a new report 'Effective resettlement of young people: lessons from Beyond Youth Custody'. The report reveals how the system of helping young people leaving custody is failing hundreds of young people every year. It highlights how reoffending rates remain stubbornly high and is warning that more needs to be done to help young people get their lives back on track.
The event was attended by over 100 guests including peers, MPs, practitioners, policy stakeholders and young people. The BYC team were also delighted to welcome Andrew Selous, Minister for Prisons, Probation and Rehabilitation to the event.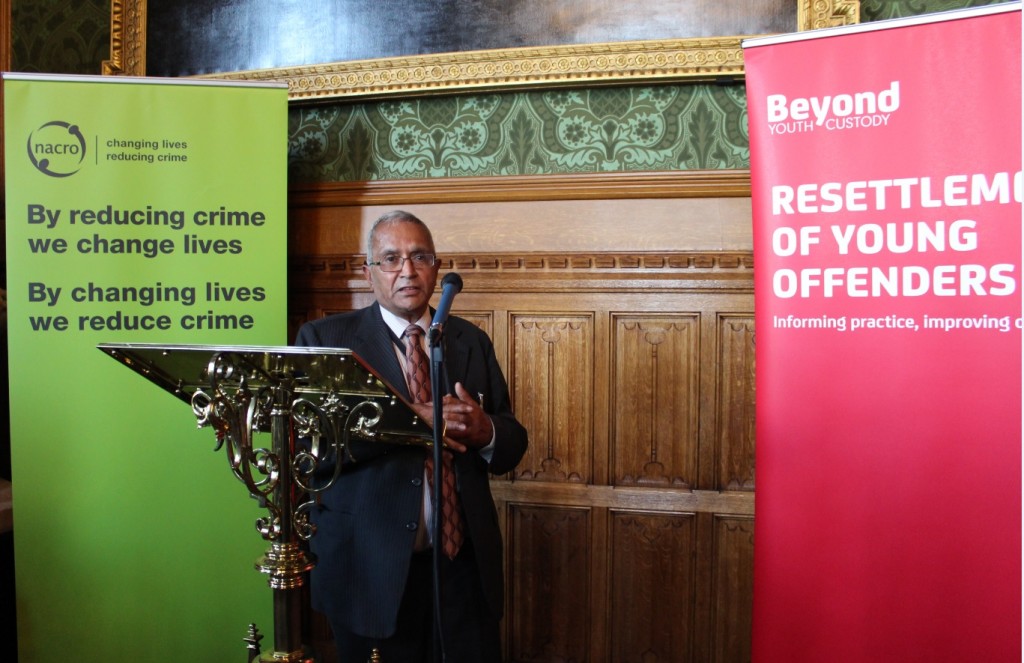 Lord Dholakia speaking at the event at the House of Lords
Highlights from the speeches included:
Rt Hon Lord Dholakia OBE, PC, DL spoke about the importance of giving young people the support they need when they are released from custody to help them lead constructive lives, particularly with gaining training and employment
Ian Thomas gave a powerful speech based on his experience, that stressed resettlement should focus on supporting young people move on and feel like they have a place in society. Key to this is providing support that enables young people to thrive and become independent, so they are not dependent on services. Find out more from Ian here.
Lord Toby Harris, chair of the independent review into self-inflicted deaths in custody of 18-24 year olds, talked about the need to develop consistent relationships between staff and young people in custody to aid resettlement. One of the Harris review's recommendations, to introduce Custody and Rehabilitation Officers is designed to facilitate such relationships
Professor Neal Hazel, BYC research lead from Salford University, summarised key learning points from the first three years of the BYC programme and highlighted what is needed for resettlement to become more effective
Rt Hon Lord McNally, Chair of the Youth Justice Board, summed up and highlighted the crucial need to meaningfully engage and consult with young people to identify what needs to change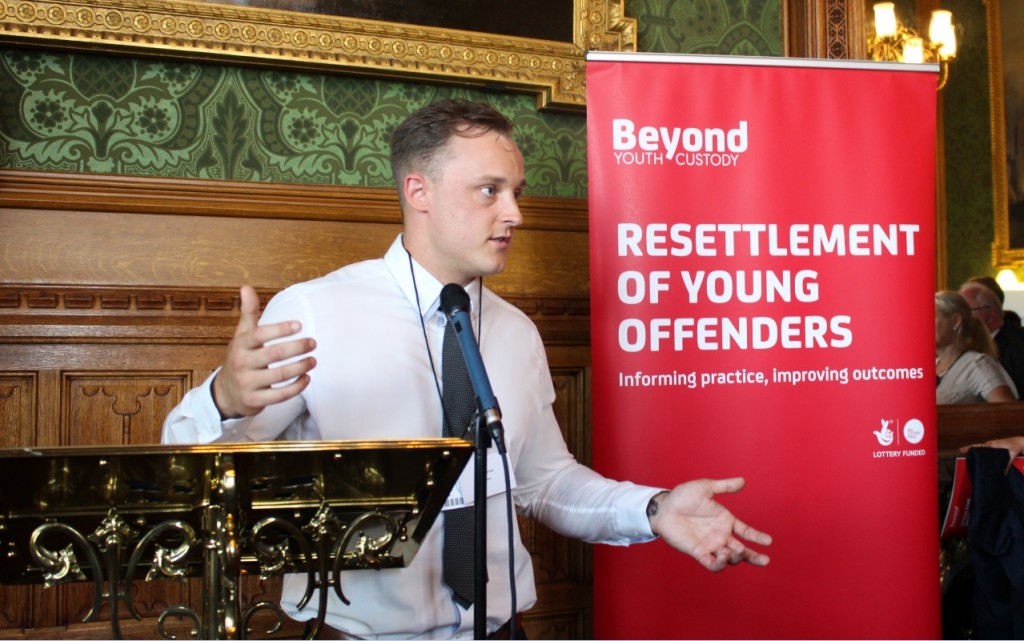 Ian Thomas speaking at the event at the House of Lords
There was a feeling of determination from those in the room to work together, share learning and best practice and gain momentum to make a difference to young people leaving custody. BYC would like to thank all of the guests and speakers for making the evening a success. With special thanks to the young people who contributed to the evening from the Youth in Focus projects; ADAPT and Future 4 Me.

Outside parliament before the event: Michael, Kieran and Randy (Peer Ambassadors) and Gary (Team Leader) from the ADAPT project, with CEO Peter, from the Salford Foundation.
What did people have to say about the event?
"Many congratulations on a very successful launch of Beyond Youth Custody. I am sure that it will play an important role in influencing policy development and promoting best practice." Rt Hon Lord McNally, Chair Youth Justice Board
"Great @BYCustody event at House of Lords last night. Renewed determination to sort out resettlement support for kids leaving custody" Professor Neal Hazel, Salford University
"It was very enlightening and I thought Ian was amazing. I was lucky enough to speak to him afterwards and I told him that he probably doesn't realise just how much of a difference he made to the way the people in that room will view their projects and work going forwards having listened to him speak" Paul Strong, Spurgeons
Ian has written a blog for BYC, called 'Rehabilitation or 'Abilitation?' that asks questions about how young people – many who have never been in a position to sustain an independent and productive place in society – can resettle or rehabilitate back into the community. Ian suggests a way forward where agencies work alongside those in conflict with the law and help them engage with things that make them feel a part of society. Click here to read Ian's blog.