A new way of working is needed to help young people leaving custody – warns new report
2 July 2015
A new report published today from the Beyond Youth Custody programme reveals how the system of helping young people leaving custody is failing hundreds of young people every year. It highlights how reoffending rates remain stubbornly high and is warning that more needs to be done to help these young people get their lives back on track.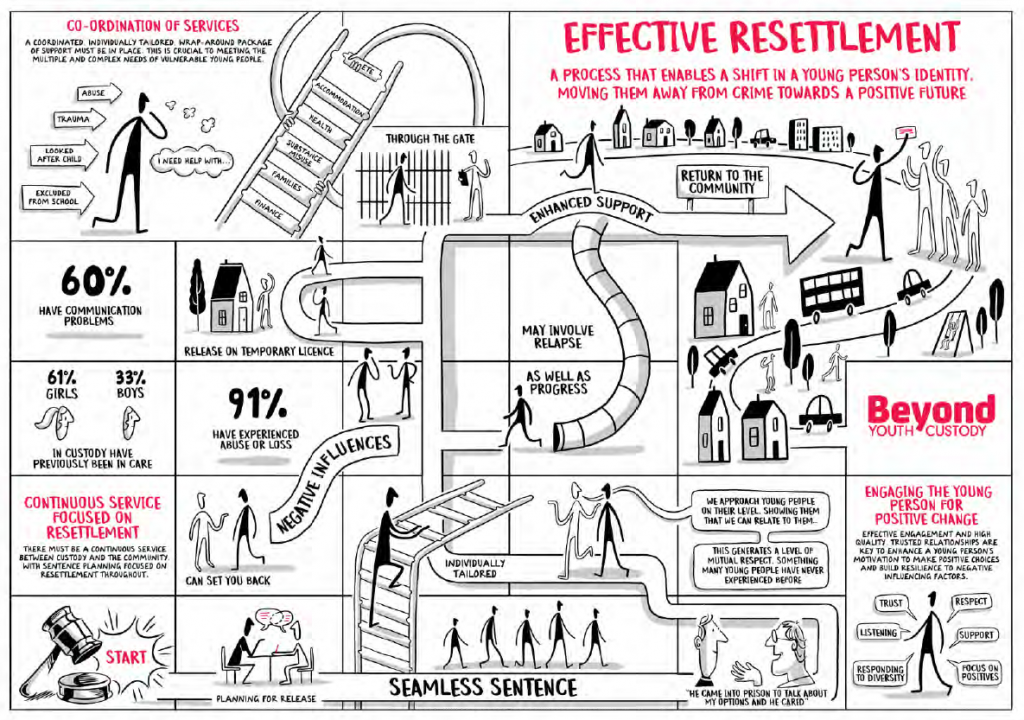 The report 'Effective Resettlement of Young People: Lessons from Beyond Youth Custody', warns that, too often, services for children in custody remain patchy or poorly coordinated, little attention is given in preparing young people for release from prison and planning for resettlement doesn't start early enough in their sentence to help make a difference.
Launching the report, The Rt Hon Lord Dholakia, President of Nacro said:
"We know that the numbers of children in custody have fallen steadily over the past decade, but despite the best efforts of those working in the system, it is shocking to think that so little time is spent in custody preparing young people to leave and turn their lives around in the community. It's no surprise that too many young people return to negative behaviours and that more than two in three reoffend within the year.
"Children and young adults in custody are some of the most vulnerable in society and while the nature of some young people's offending may result in a custodial sentence, incarceration will rarely solve the social problems caused by youth crime, nor does it resolve an individual's offending behaviour. We must support young people to lead constructive lives when they are released from custody.
"Beyond Youth Custody is a game changer. It demonstrates that there is a way forward. It challenges and advances our thinking on what works to reduce reoffending and has produced a clear evidence base from which we can build and change the way we work with some of the most challenging young people in the country. It is vital that we take this evidence forward and focus our resources on supporting young people to change."
The report emphasises that to help promote desistence, wellbeing and social inclusion for these young people, there needs to be a longer term understanding of resettlement process.
To achieve this there needs to be:
Better coordination between custody and community services.
Effective engagement – tailored to meet the needs of the individual and that will help them sustain relationships with trusted people.
Better preparation for young people leaving custody – ideally from the start.
Additional support when making the transition from custody to the community.
Support for family and or carers – as children need time to adjust and adapt to new life in community away from old negative influences.
And, a better understanding from services of the complex needs and history of young people in custody such as: trauma, abuse, neglect, mental ill health, personality disorder and loss.
Ian Thomas, who spent nearly three years in custody and was sent to ten different youth and adult prisons across the South of England from the ages of 18 -23 said:
"Towards the end of my last stretch inside, I got help from an organisation that showed me by example, truth, empathy that there was a much better way to live.
"Many young people in prison have never been in a position to sustain a place in society and achieve successful independence. It is important to help those in conflict with the law to engage with things that help them feel a part of society. They need to look at themselves and understand why they get into these situations in the first place. It's about looking at the core issues rather than the symptoms.
"We all need to be accountable for our actions, but we also need the opportunity to learn from our behaviours about life."
Ian Thomas spoke last night at a parliamentary reception to launch the report, hosted by Nacro's President Lord Dholakia at the House of Lords. Guests in attendance included Andrew Selous (Minister for Prisons, Probation and Rehabilitation) and Lord McNally (Chair of the Youth Justice Board).